Sell Your Unwanted Gold, Precious Metals, Gemstones, and Jewelry for Cash in Glendale
Reputable Gold Dealers in Glendale
At Gold Buyer Mr. GoldSilver, buying gold and selling gold is our specialty. In fact, we deal in most precious metals and will gladly deal in silver and platinum also. We not only offer the top deals found in Glendale, but we also strive to make the whole process relatively easy from beginning to end. Each of our staff members are highly professional and pride themselves in providing excellent customer service. We're also conveniently located with plenty of parking. All valuations will be carried out on site and right in front of you inside our safe and secure property. Whenever you sell your gold to us, you can rest assured that you're in the hands of the top gold buyer in Glendale.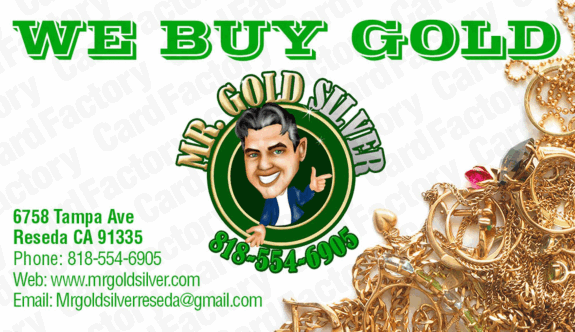 We Will Buy Gold, Silver, Platinum and Diamonds in Glendale
With regards to gold, silver, platinum and diamond buyers in the Glendale area, Mr. GoldSilver are probably the most renowned for excellent customer support. Our track record extends throughout Southern California, as well as the brand Mr. GoldSilver has come to be associated with quality in the gold buyers industry. We always offer large cash prices for your gold, silver and platinum and we also always make an effort to complete deals promptly. Our valuations are conducted in front of our customers, which many have said makes them feel a lot more at ease knowing that we are completely open with them. We'd in no way under value some thing on purpose which numerous un-respectable buyers do by carrying out appraisals behind closed doors. Although you may decide not to accept our offer, we urge you to definitely keep away from any dealer who'll not allow you to sit in for the evaluation process. If you do elect to sell to gold buyer Mr. GoldSilver we are able to guarantee you that you will be receiving the very best cash offer obtainable in Glendale.
Selling Gold in Glendale
When it comes to deciding to look for someone to sell your gold to in Glendale it is crucial that you find a buyer that's trustworthy and offers excellent customer satisfaction. Gold buyer Mr Goldsilver will not only buy all your gold but additionally your silver, platinum, and any additional precious metal you might have. We do suggest that prior to bringing in something that you want to sell, that you simply check what the current market values for the gold and other items you plan to sell. This will help you to make sure that when you contact us at Mr gold silver you'll get the very best deals possible in Glendale. Our personnel also want all prospective clients to understand that we pride ourselves on being truthful, and providing you with the best offer of any gold buyer in Glendale. In terms of all the possible gold buyers, [business-name] has the very best track record in the industry and you will not find a better deal anywhere in the market than we offer that is because we meticulously keep track of the market values on all precious metals, not merely gold. Come see us when you need or want to sell your gold.
Get Cash for Silver & Gold in Glendale
Because of so many gold buyers on the market looking to purchase your gold in Glendale, you can find your self with numerous options. With so many choices open to you, it can be a daunting job to find one that you trust. Whenever you take the time to visit gold buyer Mr Gold Silver you'll come to realize you have found the place that gives the best rates in Glendale. We'll give all your items a thorough assessment with you present so that you are comfortable that you're getting a genuine deal. We, the staff, at gold buyer mr gold silver vows to give all of our clients the very best prices primarily based off the market place value for all of your precious metals and gemstones that you choose to sell. Nowhere in Glendale will you find a more well known or trustworthy gold buyer then mr gold. Come to Mr Gold Silver, probably the most reputable gold buyer in Glendale that has been around for many years.
Selling Your Unwanted Diamonds in Glendale
There is absolutely no one better in Glendale for all your diamond selling needs than Diamond Buyer mr gold silver. Bring in all of your diamonds, when you're willing to sell them, to have our skilled gemologist appraise them for you, while you watch. This will makes certain a precise evaluation of the stones, whether they are loose or even still within their jewelry setting. Whenever you bring us your diamonds to mrgold silver although our company specializes in bigger gemstones, we'll happily help you out with all of the diamonds you're to sell, be they mounted or unmounted, big or small. If you reside in Glendale get in touch with the top purchaser of diamonds in the area and we will pay you cash right after the evaluation.
Selling Your Jewelry In Glendale
Through this unsteady economic environment, there has been increasing numbers of people needing to sell their jewelry to raise extra money to help keep them selves afloat. This is often a tough thing to do, especially if the item has emotional importance. We provide the best cash prices for jewelry that are offered in Glendale and while money is absolutely no substitute,at the very least you'll know you weren't scammed out of the genuine value once you sell to Mr. GoldSilver. We are experts in dealing with estate items and fine jewelry, and our specially trained employees are sympathetic to your needs and ddefinitely will take care of the sale using the utmost respect. This is among the many factors that Mr. GoldSilver is considered the most highly regarded jewelry buyers in Glendale.
Selling to A Gold & Silver Coins Dealer In Glendale
It is not uncommon to sell jewelry and gemstones to generate extra cash when trying to make ends meet. Along with those items, [business-name] is also the very best place in Glendale if you're interested in selling any of the coins you have in your collection. We offer the best deal in Glendale for coins, from Silver Eagles, US Gold Eagles, Platinum Eagles, or Krugerrands, at Mr GoldSilver. For your coin, gold, and silver selling needs, there is no one better in Glendale than the staff at [business-name] for the fairest and most generous prices according to current market values. For the best prices in the city, don't look any more.