Sell Your Unwanted Gold, Precious Metals, Gemstones And Jewelry For Cash in Tarzana
Diamond Buyers in Tarzana
Diamond Buyer Mr. Gold Silver is the premier choice in Tarzana when it comes to selling your diamonds. Whether you have loose stones or diamonds set into jewelery Mr. Gold Silver will offer you the highest prices in Tarzana. Our in-house geologist will perform the appraisal in front of you, explaining each step as they examine the stones using the latest technology. This allows them to give an accurate value. While we specialize in larger stones of one carat or more, we are happy to deal with smaller stones as well, even those which are unmounted or unset. We offer the highest prices on diamonds and pay cash on the spot if you choose to sell – although you are under no obligation to do so. Dealing with Mr. Gold Silver ensures that you are using the premier diamond buyer in Tarzana.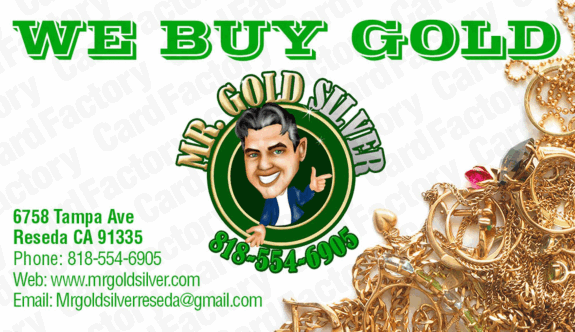 Selling Gold in Tarzana
When it comes to making the decision to look for someone to sell your gold to in Tarzana it is important that you find a dealer that is reliable and offers great customer service. Gold buyer Mr. Gold Silver will not only purchase all of your gold but also your silver, platinum, and any other precious metal you may have. We do suggest that prior to bringing in anything that you want to sell, that you check what the current market values for the gold and other items you intend to sell. This will help you to ensure that when you contact us at Mr. Gold Silver you will get the absolute best deals possible in Tarzana. Our staff also wants all potential clients to know that we pride ourselves on being honest, and providing you with the best deal of any gold buyer in Tarzana. When it comes to all the possible gold buyers, Mr. Gold Silver has the best reputation in the business and you will not find a better deal anywhere in the market than what we offer that is because we carefully monitor the market values on all precious metals, not just gold. Come see us when you need or want to sell your gold.
Precious Metals and Gemstones Buyer in Tarzana
In the precious metals and gemstone buyers industry here in Tarzana, customers have come to consider us the best in the industry. Our top-notch customer service has people coming to us on a daily basis to sell their gemstones and precious metals that include diamonds, rubies, silver, platinum, and gold. You will not find prices that are better in Tarzana than those that we offer. Along with our appraisals and valuations, done in your presence for your comfort, we pay the best prices available and do so instantly in cash once you accept our offer. To make you even more comfortable in the process, we will talk you through each step to ease any unease you have. If you are looking to sell all of your unwanted gems and precious metals in Tarzana, when you deal with us, gold buyer Mr. Gold Silver you will deal with a company you can trust.
Get Cash For Silver & Gold in Tarzana
When it comes to selling your gold in Tarzana, you will find that you are spoiled for choice. It seems like gold buyers are desperate to throw cash at you in exchange for your unwanted gold. However, not all of these businesses are equal and when you visit Gold Buyer Mr. Gold Silver you will soon realize that we are offering the best prices in Tarzana on gold and other precious metals. This is largely down to the fact that we update our pricing on a continual basis in line with fluctuations in the market. Here at Gold Buyer Mr. Gold Silver we will get you an up to date cash offer, based on the current price of gold, for your gold in a matter of minutes. There is no-one else in Tarzana who can offer genuine prices to rival ours. It is critical that you only sell your gold,silver and platinum to a trusted gold buyer like Mr. Gold Silver. We have been trading in Tarzana for more than two decades and have built up a fantastic reputation among our clients. So if you are looking to sell your gold in Tarzana, come to Mr. Gold Silver for the best price in the area.
Tarzana Gold Dealers
You do not want to risk selling your precious jewelry and gold to just any dealer in Tarzana. The best way to know who is the most reliable is to pay attention to word of mouth. Mr. Gold Silver has been dealing in the gold buying industry for many years. We have established a policy of treating each customer with a great deal of respect and including him or her in the process of evaluating their gold pieces so they know, they are getting the best and most honest deal possible. You will find that our staff is trained and that there is no safer and easier location to get to than Mr. Gold Silver in Tarzana. For all of your gold buying and selling needs, stop by Mr. Gold Silver and get the cash you deserve.
Selling Your Jewelry In Tarzana
In this unsteady financial climate, we are seeing more and more people being forced to sell their jewelry to raise extra money to keep themselves going. This can be a difficult thing to do, especially if the piece has sentimental value. We offer the highest cash prices for jewelry that are to be found in Tarzana and while money is no substitute, at least you will know you were not cheated out of the true value when you sell to Mr. Gold Silver. We are experts in dealing with estate pieces and fine jewelry, and our specially trained staff will be sympathetic to your needs and will handle the sale with the utmost respect. This is one of the many reasons that Mr. Gold Silver is among the most respected jewelry buyers in Tarzana.
Selling to A Gold & Silver Coins Dealer In Tarzana
It is common to sell jewelry and gemstones to make extra cash when trying to make ends meet. Along with those items, Mr. Gold Silver is also the best location in Tarzana if you are interested in selling any of the coins you have in your collection. We offer the best deal in Tarzana for all coins, from Silver Eagles, US Gold Eagles, Platinum Eagles, or Krugerrands, at Mr. Gold Silver. For all of your coin, gold, and silver selling needs, there is no one better in Tarzana than the staff at Mr. Gold Silver for the fairest and most generous prices based on current market values. For the best prices in town, do not look any further. Visit Tarzana Gold Buyers home page.