Sell Your Unwanted Gold, Precious Metals, Gemstones And Jewelry For Cash in Reseda
Looking to Sell Gold in Reseda
If you are selling gold in Reseda then gold buyer Mr. Gold Silver is the best choice in the area. We will buy or sell gold, silver and platinum in pretty much any condition and we are happy to take pieces in any form including damaged jewelry, coins and mixed metals. We base all of our offers on the current market price of gold, and we encourage you to check out the current prices before or after coming to gold buyer Mr. Gold Silver so that you know our cash offer is legitimate. We believe in complete transparency in all of our deals. We are often asked why we do not display our prices, and the answer is simple. We are constantly updating our prices in accordance with market fluctuations, so there is no set price from day to day – or sometimes hour to hour! We only ever give a price at the time of valuation ,so you are guaranteed the latest prices. If you are not 100% happy with our offer, you are under no obligation to sell to us. You are more than welcome to go elsewhere to seek another valuation, but we are confident that among legitimate gold buyers in Reseda, we offer the highest cash prices on gold and other precious metals as well as diamonds. Over the years gold buyer Mr. Gold Silver have cemented our name as the top gold buyer in Reseda.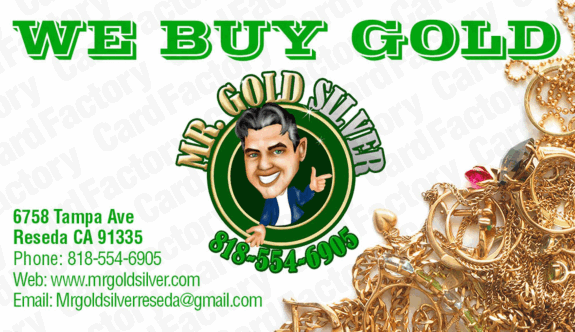 Precious Metals and Gemstones Buyer in Reseda
Here at Mr. Gold Silver we have a clear mission statement and that is to provide customers with the very best in customer service. This has made us one of the most respected names among gold, silver and diamond buyers not just here in Reseda but across all of Southern California. Our name has come to represent excellence. We offer instant cash for your unwanted precious metals and gemstones including gold, silver, platinum and diamonds and our prices are the best in Reseda in the shortest possible time. We perform all valuations and appraisals in your presence so that you are comfortable that we have nothing to hide. We have heard horror stories of buyers taking pieces into a back room and switching them for worthless copies and we want to make sure you know we are being totally honest with you. We will even talk you through the entire process step by step. When you sell your gold, silver and diamonds in Reseda, make sure you are dealing with top gold buyer Mr. Gold Silver for the best possible prices.
Selling Your Unwanted Diamonds in Reseda
If you are looking to sell diamonds in Reseda, then there is really only one place to go and that is Diamond Buyer Mr. Gold Silver. We are happy to offer generous amounts of cash for genuine diamonds and are happy to accept loose, unmounted, and unset stones as well as those set in diamond jewelry. We have a resident gemologist on staff who will value your diamonds after thorough examination with the most advanced tools in the industry. Our specialty is larger diamonds and jewelry containing over a carat of diamonds. Our gemologist will provide a very accurate valuation based on current market value and will perform the appraisal in front of you for complete transparency. We only ever offer the highest valuation price and will pay cash for your diamonds instantly. When you deal with Mr. Gold Silver you can be confident that you are dealing with the best diamond buyer in Reseda.
Get Cash For Silver & Gold in Reseda
When it comes to selling your gold in Reseda, you will find that you are spoiled for choice. It seems like gold buyers are desperate to throw cash at you in exchange for your unwanted gold. However, not all of these businesses are equal and when you visit Gold Buyer Mr. Gold Silver you will soon realize that we are offering the best prices in Reseda on gold and other precious metals. This is largely down to the fact that we update our pricing on a continual basis in line with fluctuations in the market. Here at Gold Buyer Mr. Gold Silver we will get you an up to date cash offer, based on the current price of gold, for your gold in a matter of minutes. There is no-one else in Reseda who can offer genuine prices to rival ours. It is critical that you only sell your gold, silver and platinum to a trusted gold buyer like Mr. Gold Silver. We have been trading in Reseda for more than two decades and have built up a fantastic reputation among our clients. So if you are looking to sell your gold in Reseda, come to Mr. Gold Silver for the best price in the area.
Find Jewelry Buyers in Reseda
It is often difficult to part with pieces of jewelry, especially if they are family heirlooms or have any special sentimental value. However, with the economy in its current state there are more and more people who are having to sell jewelry in order to make ends meet. When you deal with gold buyer Mr. Gold Silver you will find that we understand. We know that cash cannot replace your treasured items, but we will use tact and sensitivity when handling your valuation and we will also make sure that you not only get a fair price, but the best price in Reseda. We have a reputation for five star customer service and professionalism which has brought many satisfied clients over the years. When it comes to fine jewelry, including estate pieces, you will not find jewelry buyers in Reseda with more experience. At gold buyer Mr. Gold Silver we understand that the value of your jewelry is often more than cash, so if you are in a position where you must sell your jewelry, why not deal with the best jewelry buyers in Reseda.
Reputable Gold Dealers in Reseda
At Gold Buyer Mr. Gold Silver, buying gold and selling gold is our specialty. In fact, we deal in most precious metals and will happily deal in silver and platinum as well. We not only offer the best prices to be found in Reseda, but we also strive to make the whole process as easy as possible from beginning to end. All of our staff are highly professional and pride themselves in providing excellent customer service. We are conveniently located with plenty of parking. All valuations are conducted on site and right in front of you in our safe and secure premises. When you sell your gold to us, you can rest assured that you are in the hands of the very best gold buyer in Reseda
Selling to A Gold & Silver Coins Dealer In Reseda
In addition to buying and selling gold jewelry, Mr. Gold Silver are also one of the most respected gold coin dealers in Reseda. We are happy to buy not only gold coins, but also platinum and silver coins. So whether you have Krugerrands, Platinum Eagles, Silver Eagles or US Gold Eagles you will get the very best deal in Reseda by choosing Mr. Gold Silver as your gold buyers. We are constantly updating our prices to ensure that we are offering a fair and generous price when buying gold and with twenty years of experience in the gold market, we are among the most experience gold buyers in Reseda.
We pay the best prices in town for gold and silver.
Come visit us in Reseda.