Sell Us Your Gold, Silver & Platinum For Generous Cash Price in San Fernando Valley
Diamond Buyers in San Fernando Valley
Diamond Buyer Mr. GoldSilver is the premier option in San Fernando Valley when it comes to selling your diamonds. Whether you have unfastened gemstones or diamonds set into jeweler Mr. GoldSilver will offer you the best prices in San Fernando Valley. Our in house gemologist will perform the evaluation in front of you, explaining each step as they examine the stones while using most advanced technology. This allows them to provide a precise valuation. While we specialize in larger stones of a single carat or more, we're happy to deal with smaller stones as well, even those that are not mounted or even unset. We provide the highest rates on diamonds and pay out funds on the spot if you decide to sell – even though you are under no obligation to do so. Working with Mr. GoldSilver helps to ensure that you are using the best diamond buyer in San Fernando Valley.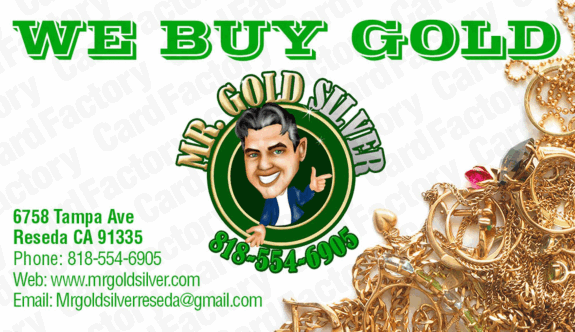 Selling Gold in San Fernando Valley
When you want to sell your gold in San Fernando Valley it is best that you turn to gold buyer Mr. GoldSilver. We'll deal not only in gold, but also in some other precious metals such as platinum and silver, whatever the condition or form. All prices are in line with the current market and they are kept up to date regularly throughout the day to ensure that you are receiving the best offer whenever selling your gold to us. You should check the current market price prior to calling in to see us at Mr. GoldSilver in San Fernando Valley so you are aware we really are providing you the best deal possible. We perform all valuations in our customers' presence because we've nothing to conceal. We firmly believe in truthfulness and integrity which is why we don't merely set a fixed price per ounce for buying your gold. We feel that by tracking the marketplace prices we're able to provide a fairer price at any time. When compared with other reputable gold buyers in San Fernando Valley,you'll find few with the track record and experience we have at Mr. GoldSilver.
We Will Buy Gold, Silver, Platinum and Diamonds in San Fernando Valley
When it comes to gold, silver, platinum and diamond buyers in the San Fernando Valley area, Mr. GoldSilver are one of the most renowned for excellent customer service. Our reputation stretches throughout Southern California, as well as the name Mr. GoldSilver has come to be associated with excellence in the gold buyers industry. We tend to always provide large cash prices for your gold, silver and platinum and we constantly make an effort to finish deals in a timely manner. Our valuations are carried out in front of our customers, which many have said makes them feel a lot more at ease knowing that we're totally open with them. We will never under value anything intentionally that many un-respectable dealers do by carrying out appraisals behind closed doors. Although you may choose not to take our offer, we encourage you to definitely keep away from any dealer who'll not permit you to sit in for the appraisal process. Should you elect to sell to gold buyer Mr. GoldSilver we are able to assure you that you will be obtaining the best cash offer obtainable in city-name].
Offering Cash For Gold and Silver in San Fernando Valley
There are several gold buyers in San Fernando Valley making it possible to sell your gold and silver, so you may be thinking why is Mr. GoldSilver different. There are many components which make our company stand above the crowd, however the primary one that interests many people seeking to sell gold in San Fernando Valley is that we offer the best rates in town – in cash! Gold Buyer Mr. GoldSilver will not give you a fixed rate per ounce. Instead we consistently look at the market price for gold and then use it to ascertain our cash offers. This enables us to offer you a much better rate than you may be offered somewhere else. Once you visit Mr. GoldSilver you will notice that we'll value your gold or silver in front of you and make a cash offer in a matter of a few moments – there's no secretive back area and no waiting around for the money. We provide the best rates on gold and silver in the entire San Fernando Valley area. An additional component that makes us a consumer favorite is actually our good reputation and experience. We have more than 2 decades experience working in the gold buying business and our reputation is immaculate. Clients understand that we're trustworthy that is certainly why they come to us to sell gold and silver. If you have gold or silver to sell in San Fernando Valley, it's wise to come to gold buyers Mr. GoldSilver.
Selling Your Jewelry In San Fernando Valley
During this unsteady financial climate, there has been more and more people needing to sell their jewelry to raise extra money to keep them selves afloat. This is often a difficult move to make, especially if the item has sentimental value. We offer the best cash prices for jewelry that are to be found in San Fernando Valley and while money is no substitute, at the very least you'll know you were not cheated out of the genuine value once you sell to Mr. GoldSilver. We are experts in working with estate pieces and fine jewelry, and our specially educated staff are sympathetic to your needs and will handle the sale using the utmost respect. This is among the many reasons that Mr. GoldSilver is among the most respected jewelry buyers in San Fernando Valley.
San Fernando Valley Gold Dealers
It is important that you use an experienced and reliable gold dealer when looking for anyone to purchase your gold. In San Fernando Valley, you will notice that the name on everybody's lips whenever you inquire about gold buying is Mr. GoldSilver. We have been well-known for top quality customer support and we always attempt to ensure that dealings run as effortlessly as possible. Our company's personnel will be professional at all times and often will guide you through the process from beginning to end as they perform your evaluation inside the room with you. We do not have secrets here and offer total transparency. Our company's premises will be safe and secure and are in a convenient location that is easy to find and offers sufficient parking right outside. If you decide on Mr. GoldSilver as your gold dealer in San Fernando Valley you're in the absolute best hands.
Gold Coin and Silver Coin Buyers in San Fernando Valley
Not only do we buy gold and jewelry right here at Mr. GoldSilver, we're also among the premier gold coin dealers in San Fernando Valley. Should you have coins of any type, including US Gold Eagles, Silver Eagles, Krugerrands or Platinum Eagles we will buy them for cash at the best prices in San Fernando Valley. Our pricing is updated in accordance with the market regularly throughout the working day to assure the top price on your gold coins. Mr. GoldSilver is the best gold coin trader that San Fernando Valley has to offer.
We pay big cash for gold, silver, platinum and diamonds in San Fernando Valley.Perhaps you should stop by our location in Reseda for a free estimate with no obligation to sell.