Sell Us Your Gold, Silver & Platinum For Generous Cash Price in Studio City
We Will Buy Gold, Silver, Platinum and Diamonds in Studio City
With regards to gold, silver, platinum and diamond buyers in the Studio City area, Mr. GoldSilver are probably the most renowned for excellent customer satisfaction. Our reputation stretches throughout Southern California, as well as the brand Mr. GoldSilver has come to be linked to quality in the gold buyer's arena. We always provide large cash prices for your gold, silver and platinum and we also constantly try to finish deals promptly. Our valuations are carried out in front of our clients, which many have stated makes them feel a lot more at ease knowing that we're completely open with them. We'd never under value something deliberately which quite a few un-respectable dealers do by carrying out appraisals behind closed doors. Although you may choose not to take our offer, we urge you to steer clear of any kind of dealer who will not permit you to sit in on the evaluation process. If you do elect to sell to gold buyer Mr. GoldSilver we are able to guarantee you that you'll be getting the very best cash offer obtainable in Studio City.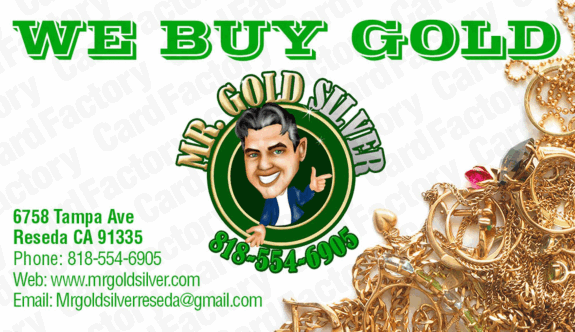 Looking to Sell Gold in Studio City
If your selling gold in Studio City then gold buyer Mr. GoldSilver is the best choice in the area. We buy or sell gold, silver and platinum in virtually any condition and we're willing to acquire pieces in any form which includes broken jewelry, coins and mixed precious metals. We tend to base all of our offers on the market price of gold, so we welcome you to check out the latest prices before or after visiting gold buyer Mr. GoldSilver so that you know our cash offers are genuine. We believe in complete transparency in all of our transactions. We are frequently asked the reason why we do not reveal our rates, and the response is straightforward. We are continuously bringing up-to-date our rates in line with market fluctuations, that is why there is no fixed price from day to day – or sometimes hour to hour! We only ever give a price during the time of appraisal, so that you are assured the most recent. If you aren't 100% satisfied with our offer, you're under no obligation to sell to us. You are more than welcome to look in a different place to seek another appraisal, however we're certain that among reputable gold buyers in Studio City,we provide the highest cash prices on gold and other precious metals. Over time gold buyer Mr. GoldSilver has cemented our company name as being the best gold buyer in Studio City.
Offering Cash For Gold and Silver in Studio City
There are several gold buyers in Studio City where you could sell your gold and silver, so you may be asking yourself what makes Mr. GoldSilver unique. There are plenty of components which make our company stay ahead of the crowd, but the main one that interests most people looking to sell gold in Studio City is that often we offer the best prices in town – in cash! Gold Buyer Mr. GoldSilver doesn't offer a set rate per ounce. Instead we continuously look at the market rate for gold and then use it to determine our cash offers. This allows us to offer you a better rate than you might be offered in another place. Whenever you pay a visit to Mr. GoldSilver you will appreciate that we shall value your gold or silver in your presence and prepare a cash offer within just a few moments – there isn't any secret back area and no waiting around for the money. Our company offers the top rates on gold and silver in the entire Studio City area. Another component that makes our company a consumer favorite is our reputation and expertise. We have more than 2 decades experience working in the gold buying business and our track record is flawless. Clients know that we're trustworthy and that's why they come to us to sell gold and silver. If you have gold or silver to sell in Studio City, it seems sensible to visit gold buyers Mr. GoldSilver.
Selling to A Gold & Silver Coins Dealer In Studio City
It is common to sell jewelry and gemstones to make extra cash when trying to make ends meet. Along with those items, Mr. GoldSilver is additionally the very best location in Studio City if you're thinking about selling any of the coins you have in your collection. We provide the best deal in Studio City for all coins, from Silver Eagles, US Gold Eagles, Platinum Eagles, or Krugerrands, at Mr. GoldSilver. For all of your coin, gold, and silver selling needs, there's no one better in Studio City than the staff members at Mr. GoldSilver for the fairest and most generous rates based on market place values. To find the best rates in town, don't look any more.
Selling Your Jewelry In Studio City
In this unsteady economic climate, there has been increasing numbers of people having to sell their jewelry to raise extra cash to help keep themselves afloat. This is often a challenging move to make, especially if the item has emotional value. We provide the highest cash prices for jewelry that are offered in Studio City and while cash is no substitute,at the very least you will know you were not scammed out of the genuine value when you sell to Mr. GoldSilver. Were experts in dealing with estate pieces and fine jewelry, and our specially educated staff will be compassionate to your needs and will take care of the sale using the utmost respect. This is among the many factors that Mr. GoldSilver is among the most respected jewelry buyers in Studio City.
Selling Your Unwanted Diamonds in Studio City
Diamond Buyer Mr. GoldSilver is the foremost place to go if you are looking to sell your unwanted diamonds in Studio City. In the event you bring us your unmounted, loose, and unset gemstones, we will take them off your hands in exchange for a considerable amount of money. Prior to paying you for your diamonds, our resident gemologist will use the best instruments in the industry to give them an intensive evaluation to inspect their quality. Upon completion, you're going to get a valuation that's based on the market price presently. To guarantee that you are satisfied with the final results we'll carry out the evaluation with you present. Do not work with less than the best; with Mr. GoldSilver you will obtain the highest appraisal price in Studio City for your diamonds and be compensated instantly in cash.
Studio City Gold Dealers
You don't want to risk selling your special jewelry and gold to just any buyer in Studio City. The best way to recognize who is the most reliable would be to pay attention to testimonials. Mr. GoldSilver has been working in the gold buying industry for a long time. We have established a policy of dealing with each client with a great deal of respect and working together with him / her in the process of analyzing their gold pieces so that they know, they're receiving the best and most honest offer possible. You will find that our staff members are trained and that there isn't any safer and easier location to get to than Mr. GoldSilver in Studio City. For your gold selling and buying needs, stop by Mr. GoldSilver and get the cash you are entitled to.