Sell Us Your Gold, Silver & Platinum For Generous Cash Price in Thousand Oaks
Thousand Oaks Gold Dealers
It is essential that you use a skilled and reliable gold dealer when you are evaluating someone to buy your gold. In Thousand Oaks, you will find that the name on everyone's lips whenever you inquire about gold buying is Mr. GoldSilver. We are well recognized for top quality customer service and we also constantly attempt to make sure that transactions run as effortlessly as possible. Our company's employees will be professional at all times and often will help you through the process from beginning to end as they conduct your evaluation inside the room with you. We don't have secrets here and believe in total openness. Our company's premises will be safe and secure and are in a location that is easy to find and offers sufficient parking right outside. Once you select Mr. GoldSilver as your gold dealer in Thousand Oaks you're in the best possible hands.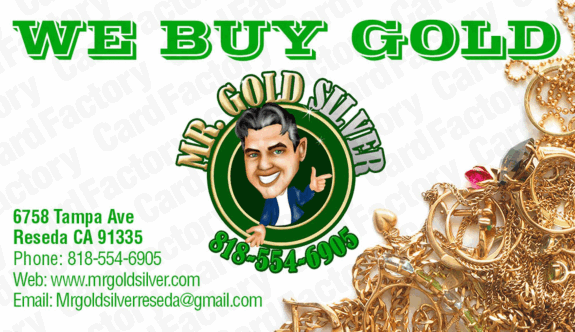 Offering Cash For Gold and Silver in Thousand Oaks
Living in Thousand Oaks it can be easy to find a lot of buyers and sellers of gold and silver, however they are not all likely to be as reliable or as honest as Mr. GoldSilver. You need to make sure that prior to taking your treasured valuables, such as gold, platinum, silver, and gemstones, to sell, that the organization you are going to is respected. Our employees at gold buyer Mr. GoldSilver keeps on top of all of the most up to date market values for all precious metals and gemstones. We wish to be able to assure all of our customers with the best rates offered throughout Thousand Oaks. There will be no question that when you stop by Mr. GoldSilver, that you're going to be working with the best buyer of gold and silver in the area. You won't have to endure back room deals, or evaluations of your valuable items that aren't completed in front of you. Don't be left dealing with an unprofessional or untrustworthy buyer of gold and silver when you can visit Mr. GoldSilver in Thousand Oaks and get compensated a premium price for all of those items you do not want to part with, but have to. With over 20 years of experience in this industry, we are going to do everything that we can to make sure that you have the best experience possible.
Selling Your Unwanted Diamonds in Thousand Oaks
Diamond Buyer Mr. GoldSilver is the foremost location to go if you're looking to sell your unwanted diamonds in Thousand Oaks. In the event you bring us your unmounted, unfastened, and unset gemstones, we'll take them off your hands in exchange for a substantial amount of cash. Just before paying you for your diamonds, our resident gemologist will use the most effective instruments in the business to give them an intensive examination to inspect their quality. When completed, you're going to get a valuation that's in line with the market price currently. To make sure that you're satisfied with the results we will perform the actual evaluation with you present. Do not deal with less than the best; with Mr. GoldSilver you'll receive the highest appraisal price in Thousand Oaks to your diamonds and be paid instantly in cash.
Selling Your Jewelry In Thousand Oaks
During this unsteady financial environment, we are seeing increasing numbers of people having to sell their jewelry to raise extra money to keep themselves going. This is often a difficult move to make, especially if the item has emotional value. We offer the very best cash prices for jewelry that are offered in Thousand Oaks even though money is no substitute, at least you will be aware you were not cheated out of the true value once you sell to Mr. GoldSilver. Were experts in working with estate items and fine jewelry, and our specially trained staff are compassionate to your needs and will take care of the sale with the utmost respect. This is certainly among the many factors that Mr. GoldSilver is amongst the respected jewelry buyers in Thousand Oaks.
Precious Metals and Gemstones Buyer in Thousand Oaks
Within the precious metals and gem stone buyers industry here in Thousand Oaks, customers have come to consider us the best in the market. Our top-notch client service has people visiting us on a daily basis to sell their gemstones and precious metals that include diamonds, rubies, silver, platinum, and gold. You will not find rates that are better in Thousand Oaks than those that we supply. Along with our evaluations and valuations, done in your presence for your convenience, we pay the best prices available and do so immediately in cash as soon as you accept our offer. To make you even more comfortable along the way, we will talk you through every step to relieve any unease you have. If you are planning to sell all of your unwanted jewels and precious metals in Thousand Oaks, whenever you deal with us, gold buyer Mr. GoldSilver you will deal with a company you can trust.
Gold Coin and Silver Coin Buyers in Thousand Oaks
Not only do we buy gold and jewelry at Mr. GoldSilver, we are also among the leading gold coin dealers in Thousand Oaks. When you have coins of any kind, including US Gold Eagles, Silver Eagles, Krugerrands or Platinum Eagles we are able to purchase them for cash at the best prices in Thousand Oaks. Our company's pricing is up-to-date in line with the market on a regular basis through the working day to assure the top price on your gold coins. Mr. GoldSilver is the foremost gold coin trader that Thousand Oaks has to offer.
We pay big cash for gold, silver, platinum and diamonds in Thousand Oaks.
Why don't you stop by our premises in Reseda.
Selling Gold in Thousand Oaks
When it comes to making the decision to look for someone to sell your gold to in Thousand Oaks it is vital that you find a dealer that's reliable while offering great customer support. Gold buyer Mr. GoldSilver doesn't only buy all of your gold but also your silver, platinum, and any other precious metal you might have. We do suggest that prior to bringing in whatever you want to sell, that you check what the market place values for the gold as well as other items you intend to sell. This will help you to ensure that when you contact us at Mr. GoldSilver you'll get the very best deals possible in Thousand Oaks. Our personnel also want all potential clients to know that we pride ourselves on being truthful, and giving you the best offer of any gold buyer in Thousand Oaks. When it comes to all of the possible gold buyers, Mr. GoldSilver has got the very best track record in the business and you may not find a better offer anywhere in the market than we provide that is because we carefully monitor the marketplace values on all precious metals, not only gold. Come see us when you need or want to sell your gold.